I finally had some time to do some testing with TSS shot. We all know it's some deadly stuff, but it has gotten so much hype, it's hard to separate fact from fantasy. I wanted to have some reasonably hard data points to look at.
I tested just two TSS loads. Both 12 gauge 2-3/4". Both 1-5/8 oz payload, listed by the data source at 1255 fps. One with TSS #4 with 131 pellets and one with TSS #2 with 94 pellets. All in my Benelli M2 with a 26" barrel.
Let's start by looking at some patterns. Really terrible patterns. My first two patterns with TSS at 40 yards.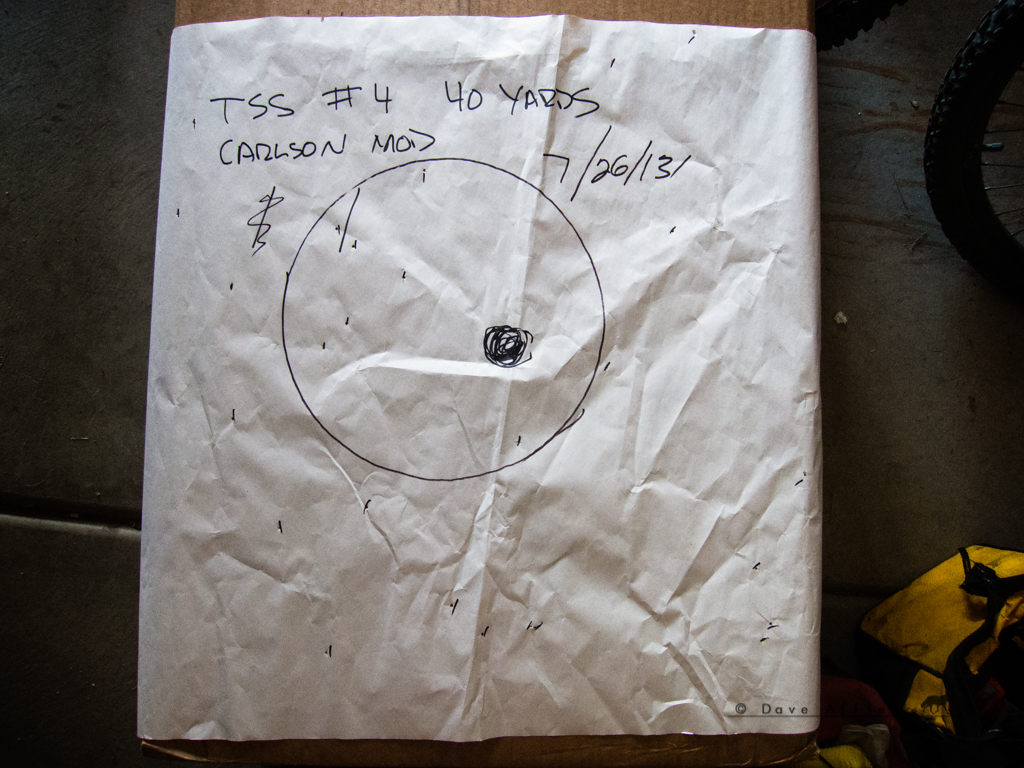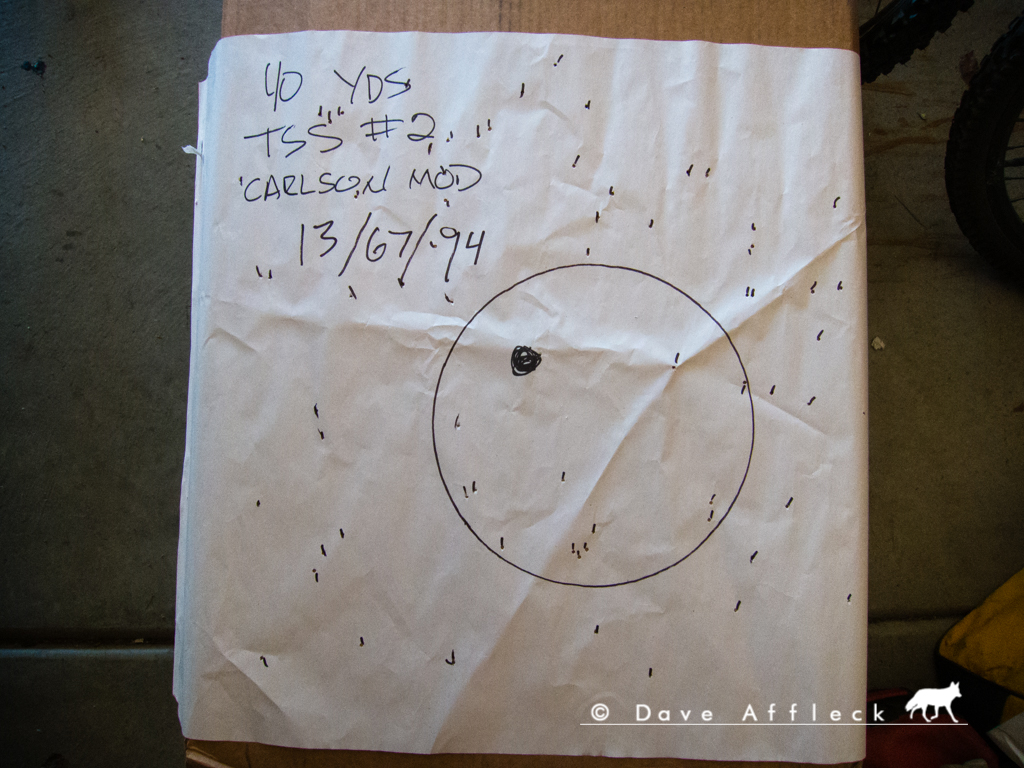 Talk about a lousy start!
Everything I had heard was to use less choke with TSS. So, the first choke I tried was an extended Carlson Mod. Horrible!!! Next, I tried a Kicks GT .670 and it did much better!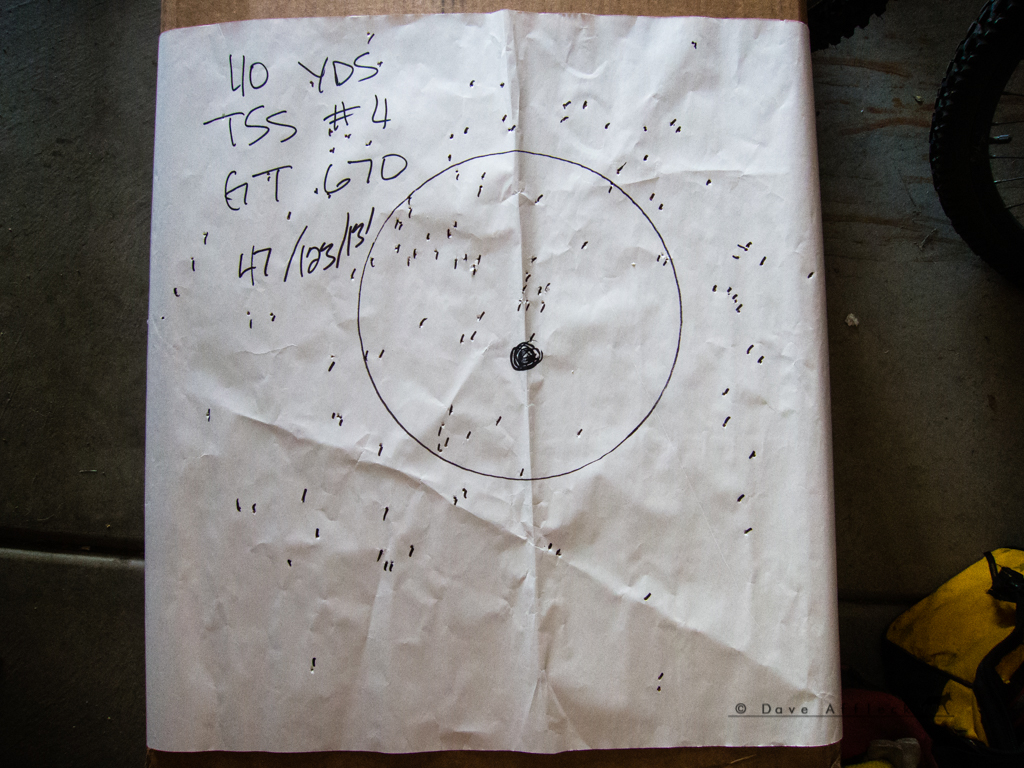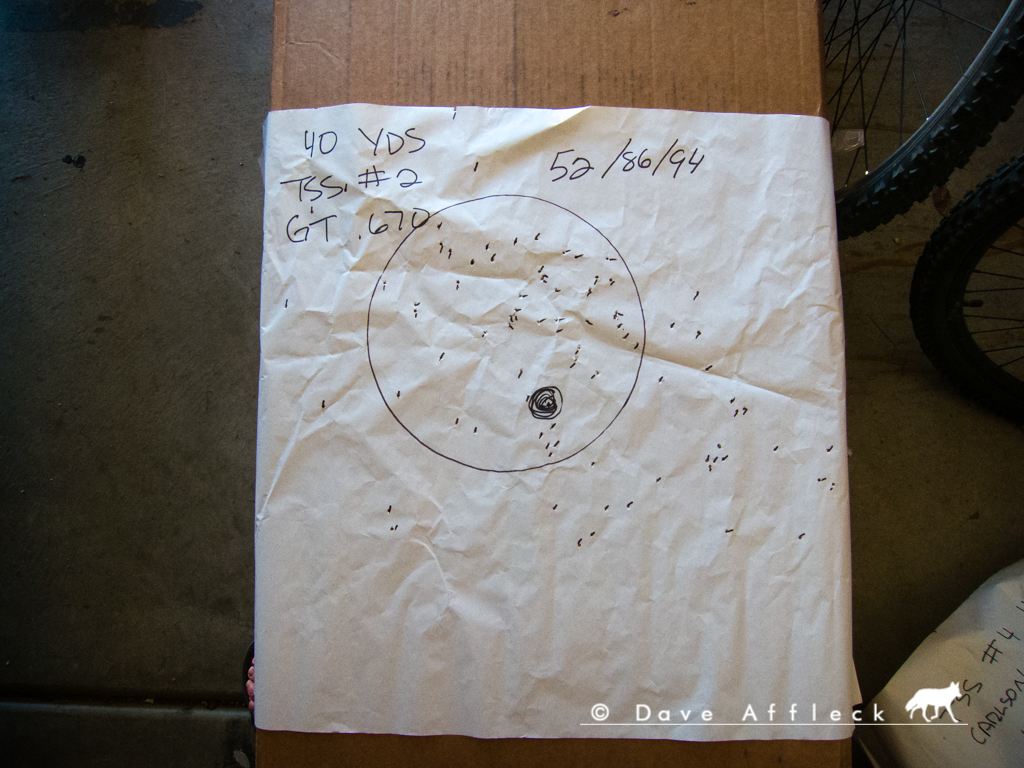 For the #2, that's 52 hits in a 10" circle, 86 hits on the 2×2 backer paper (out of 94 pellets in the shell). And that's 52 hits that penetrate like crazy, as we'll see later…
The #4, interestingly, had fewer hits in the 10" circle at 47. With a 131 pellet payload, I'd expect more hits in the 10", not less. This proved to be the case in all patterns at all distances that I shot with the TSS #4 and Kicks GT .670 compared to the TSS #2, so I believe a better choke could be found for the #4's.
But, that's a fairly even and dense pattern over the whole 2×2 backer for the TSS #4, with 123 out of the 131 pellets in the shell hitting that two foot square. And 47 in the 10" at 40 yards, that's a coyote killer. So, while I think a better choke could be found, that's still a great looking coyote load and pattern!
And, it should be noted, I have done quite a bit of patterning with this shotgun in the last few months, with more than a half dozen coyote loads and many chokes. These patterns at 40 yards with 2-3/4" TSS loads and the GT .670 are by far, the best 40 yard patterns I've seen yet with this gun yet.
That, is some seriously good 40 yard patterning.  So let's look at 50 yards.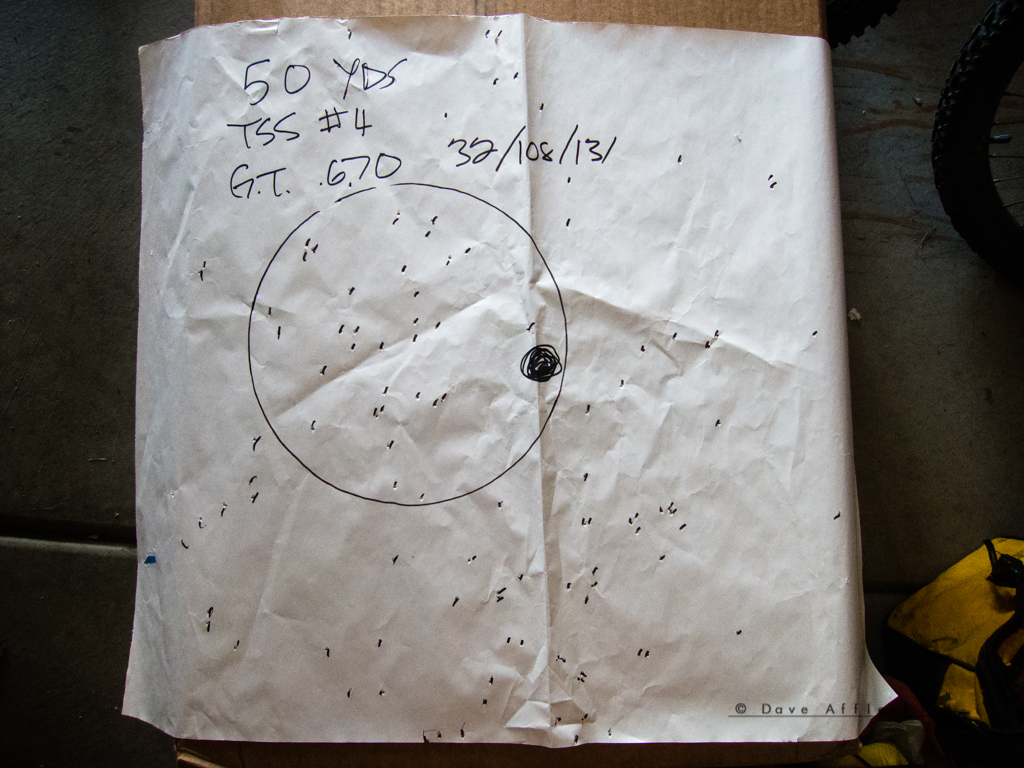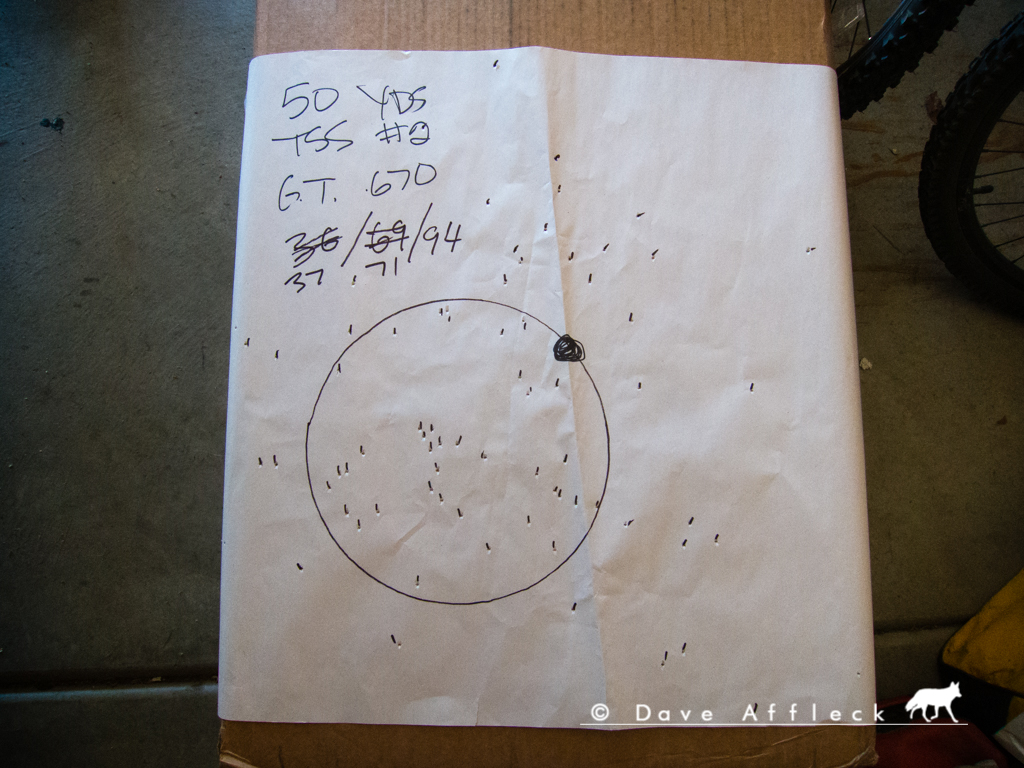 The TSS #2 put 37 in the 10", 71 on the backer. The TSS #4 put 32 in the 10" and 108 on the backer. Nothing else I've patterned at 50 yards has come anywhere close to that kind of hit density in the 10".
That, is some awesome 50 yard patterning! This TSS is looking really good so far. So, let's look at 60 yard.  Why not, eh?
I only took one shot at 60 with the TSS, using the #2's. I also shot 3" Dead Coyote T and 3", 1-3/4 oz of nickel plated F at 60. Here all all three patterns.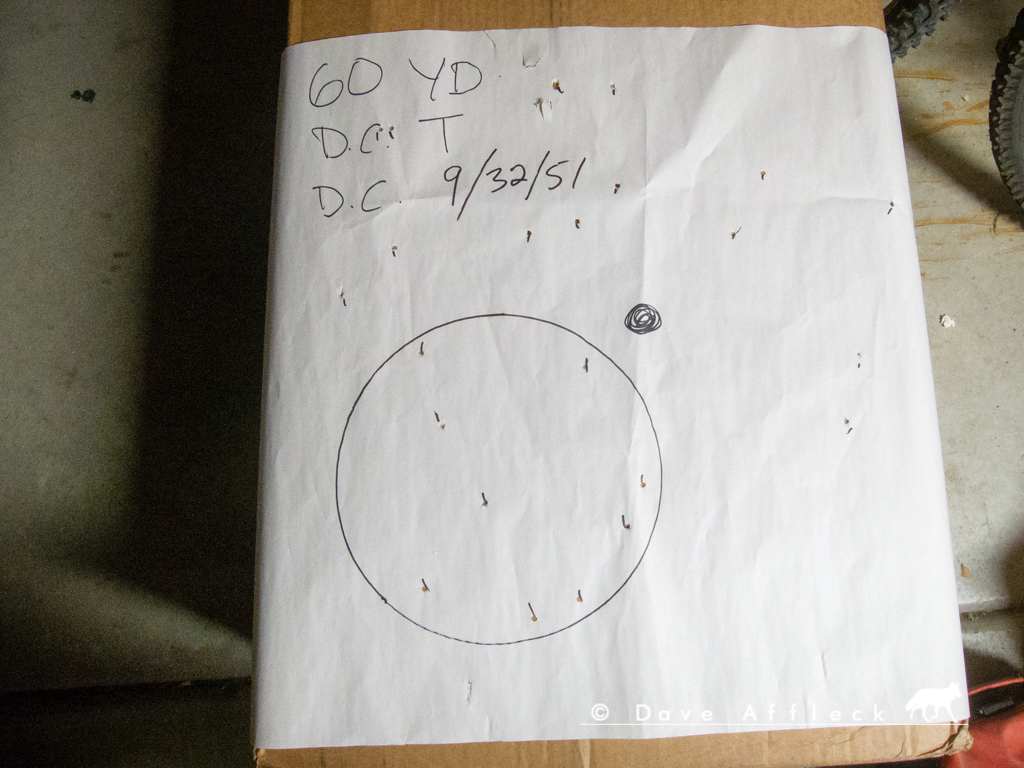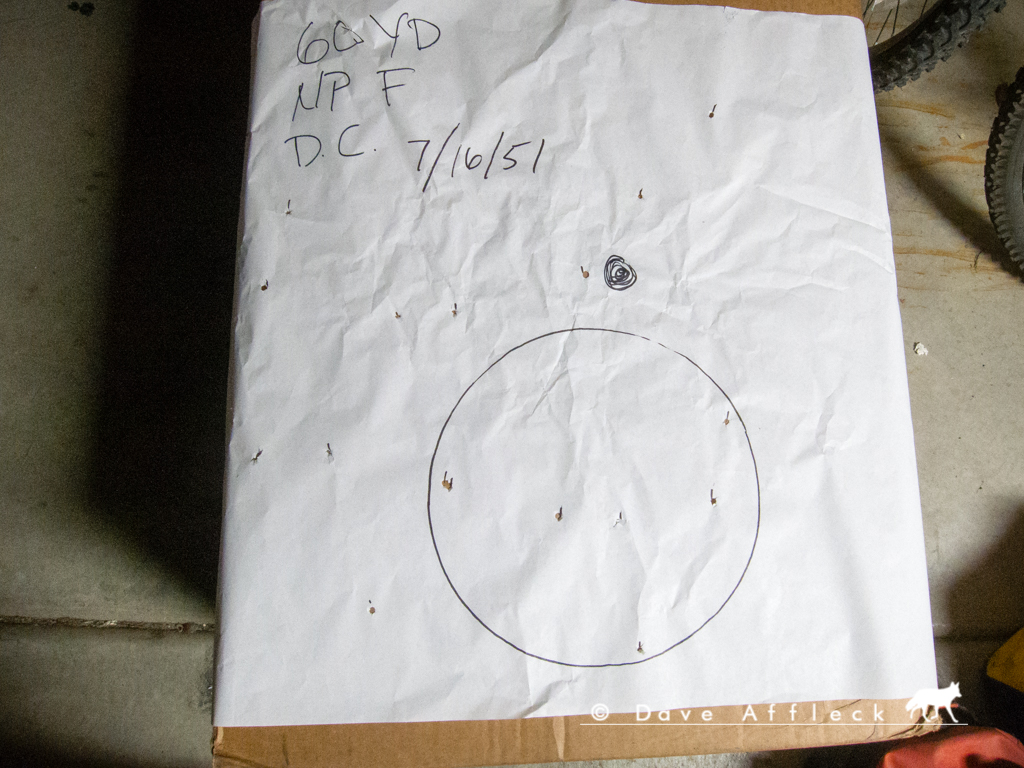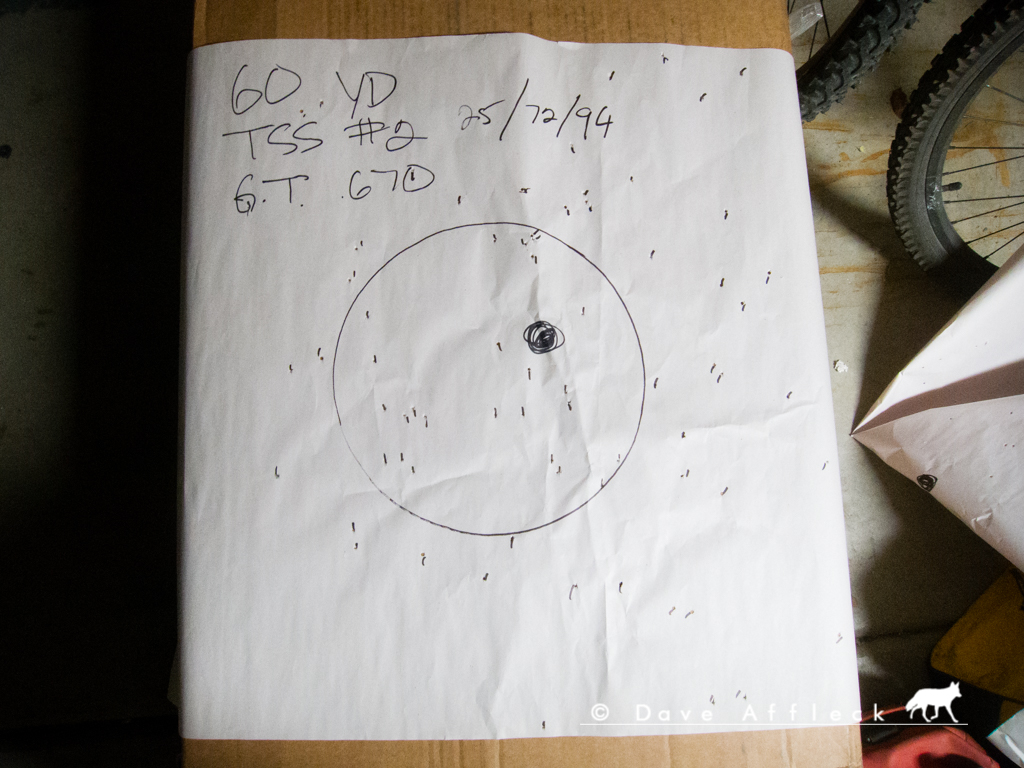 As you can see in the pictures, TSS #2 was the 60 yard pattern champ by a mile! Putting a whopping 25 pellets in the 10" circle, at 60 yards. And still, 72 hits on the two foot backer – that's as many pellets as are in my Hev-shot BB 1-1/2 oz load. But TSS #2 penetrates WAY better than HS BB.  This is the first really killer looking 60 yard pattern I have seen with any load in my Benelli M2.  I'm impressed!
So… 70 yards was never a goal for me here, just not even part of the plan. But, after looking at the 60 yard patter from TSS #2 for awhile, I couldn't help but wonder, could it actually hold a coyote killing pattern still at 70 yards? It sure looked like it might. So, a week later, I went back out and took one pattern shot at 70 yards, using TSS #2.
Here's the setup. 70 yards is a loooong way out there, for a shotgun.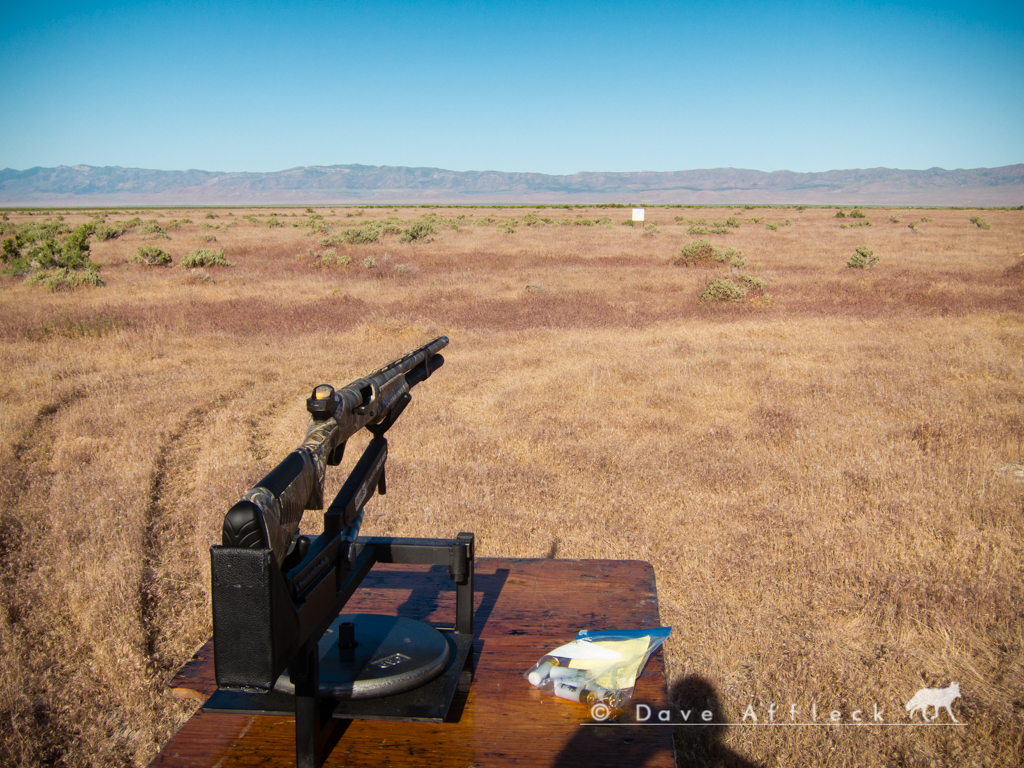 And here is the pattern. At 70 freaking yards.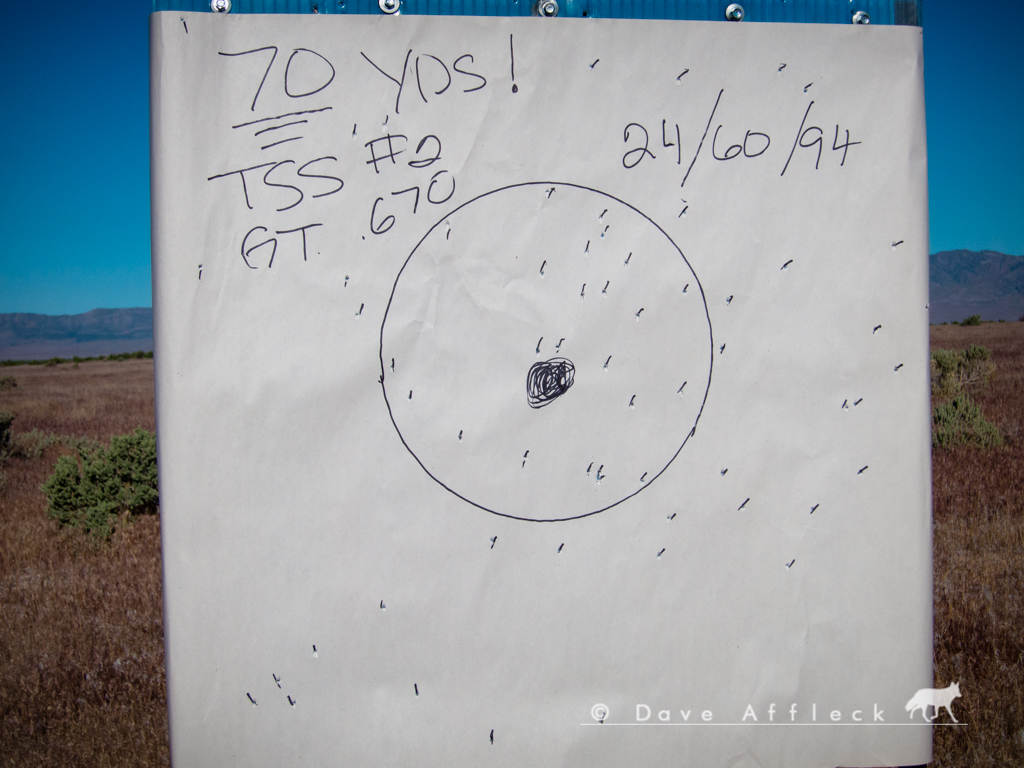 That 70 yard pattern, is nothing short of astonishing to me. That would be a dang fine looking 40 yard pattern for most coyote loads in most shotguns. We'll get to penetration in the next post, but suffice to say, all indications are that TSS #2 is going to penetrate better than anything else I've ever used for coyote. At this point, I believe it will have sufficient penetration at 70 for good coyote killing performance, though, only field experience will truly tell that tale.
For myself, this TSS testing is redefining what I think of as "possible" with a shotgun for coyote.
So, here are some tables and charts relating to my pattern testing with coyote ammo in this Benelli M2 the last couple months. Note – I finished these tables and charts before doing the 70 yard pattern, so it's not included in any of them.
First are the results of considerable pattern testing at 40, 50 and 60 yards in table format – note, most of these loads were tested with multiple shots each with at least a few chokes and these results represent the best of each, not the average.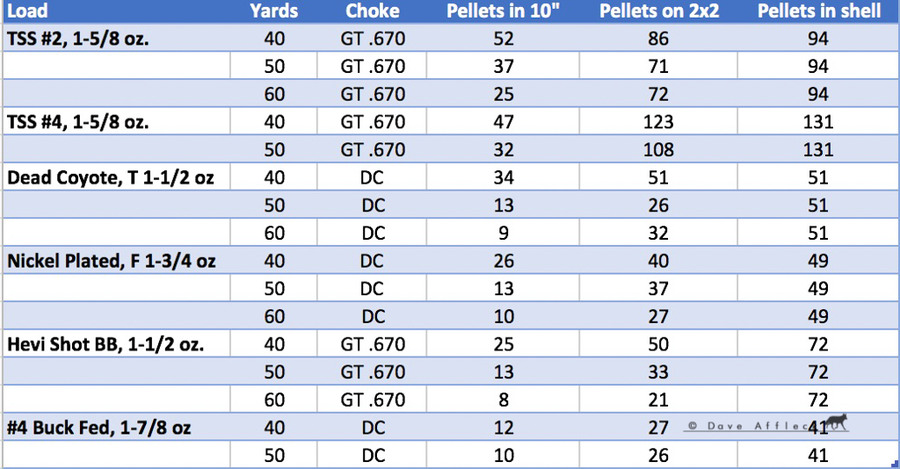 And here is some of the same data in chart format, showing the number of pellets that hit in the 10" circle at different distances for the same group of loads.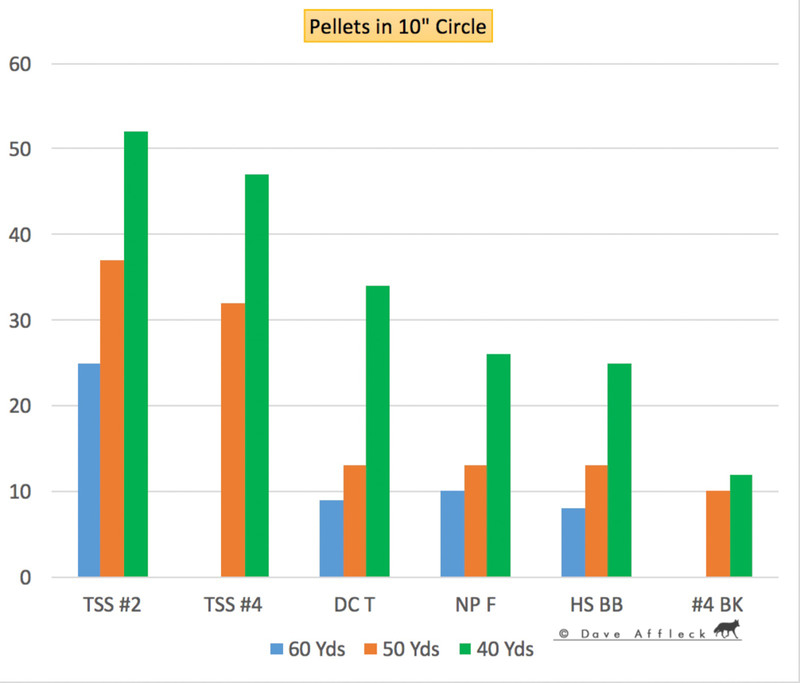 And another chart showing how many pellets hit the 2'x2′ backer paper for the same group of tests. An indication of overall pattern size and density, which shouldn't be ignored – I'm not interested in turning my shotgun into a rifle here, being able to make hits on close in, fast running coyotes flying through the sage brush is my primary use and interest for the shotgun.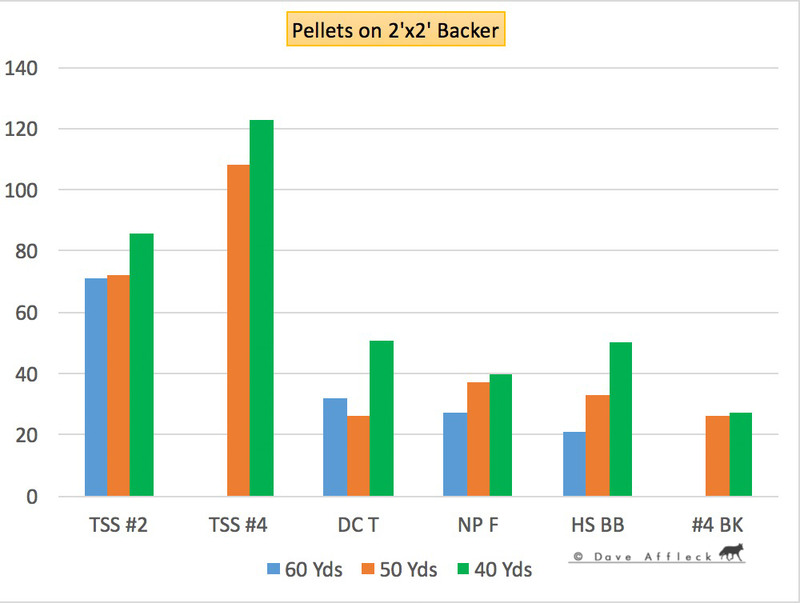 Bottom line on pattern testing, TSS patterns better than anything I have ever tried.
Here are a few of the data points that stand out to me:
Before TSS, the previous three way tie for most pellets in 10″ at 50 yards was only 13. The 37 in the 10″ at 50 yards for TSS #2 is almost three times as many hits as previously seen with this gun.
My Hevi-shot BB load, with 72 pellets total and 25 pellets in the 10″ at 40 yards, has proven a good coyote killer for me out to about 45 yards. TSS #2, with 94 pellets total, puts the same 25 pellets in the 10″, at 60 yards, with much better penetration!
TSS #4, with 123 hits on the 2'x2′ paper at 40 yards and 32 hits in the 10″ at 50 yards, with overall better penetration than Hevi-shot BB, is going to be just a big, dense, nasty swarm of death out to 50 yards.
Dead Coyote T is a well proven and effective coyote load. But TSS #2 just beats the heck out of DC in every test. Patterns and penetration with TSS #2 are just far superior to Dead Coyote T. It's not even close!
– DAA
Summary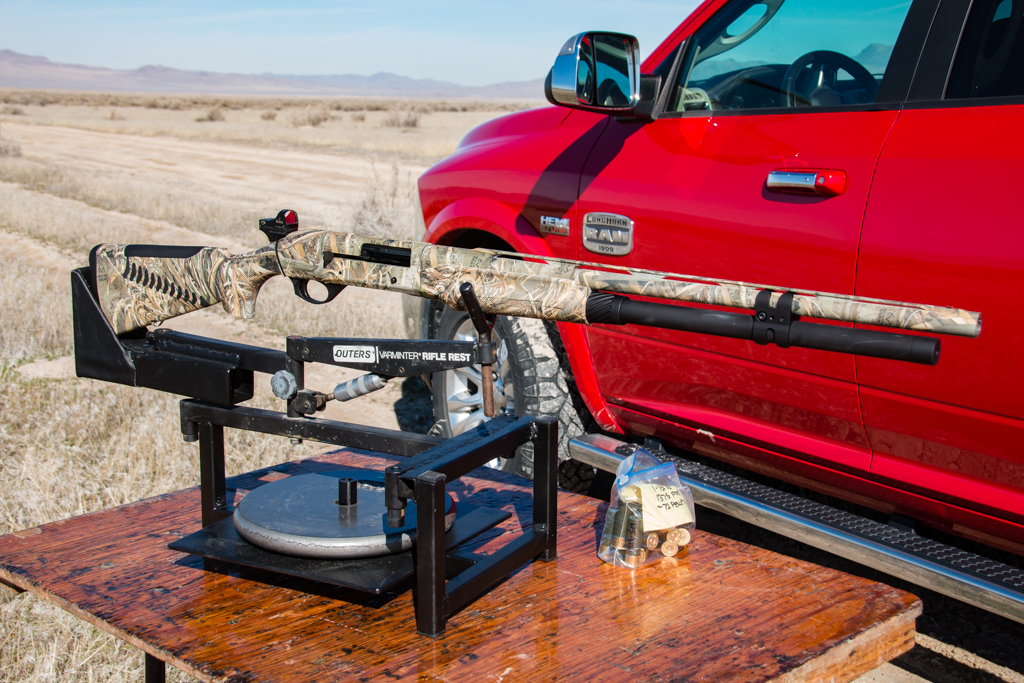 Article Name
TSS Coyote Load Pattern Testing
Description
In depth pattern testing of TSS shot for coyotes.
Author
Publisher Name
Publisher Logo