August Is For Velvet
I know a lot of people don't care much for the month of August.  But it has always been one of my favorite months.  Mainly, because that's when Utah's archery mule deer season is.  For my whole life, I have made it a point to get up in the mountains in August just to look at mule deer bucks.  In recent years, I've added taking pictures of them to just looking.
Sadly, I have not been able to hunt with a bow in recent years.  But that's not what I want to talk about.
What I want to talk about, is the family camping trip we took last week.  We loaded up the trailer, put the ATV in the back of the truck, tossed in lots of good food and a  bunch of guns and all headed for one of our favorite camping spots.
We just relaxed, for the most part.  Did a lot of plinking with .22 rifles and pistols, did a lot of cooking and eating.  Did a lot of trail riding on the ATV.  Did a lot of looking at beautiful scenery and plentiful wildlife.  We saw very few other people and saw only one other camp which was about five miles from ours in all our moving about.
Here is a short time lapse video of the stars from camp that the picture above was taken from.  Note – when it looks like daylight at the end of the video, that's actually the moon rising and moonlight washing out the scene.
We had a blast!
Velvet
In the evenings, we'd get in the truck and just drive around slowly, seeing what kind of wildlife we could see.  We saw a lot!  Mostly deer.  But a few elk, including some nice bulls and one absolute MONSTER bull (which did not stick around long enough to get his picture taken…).
I took a lot of pictures of bucks!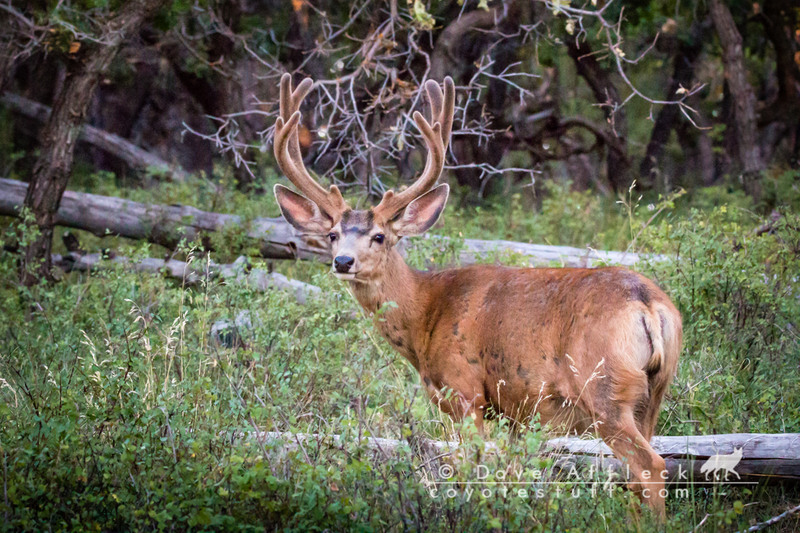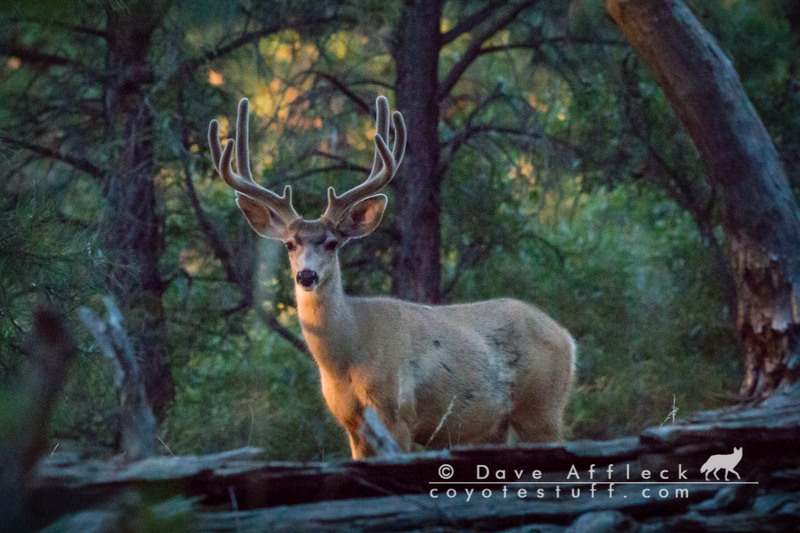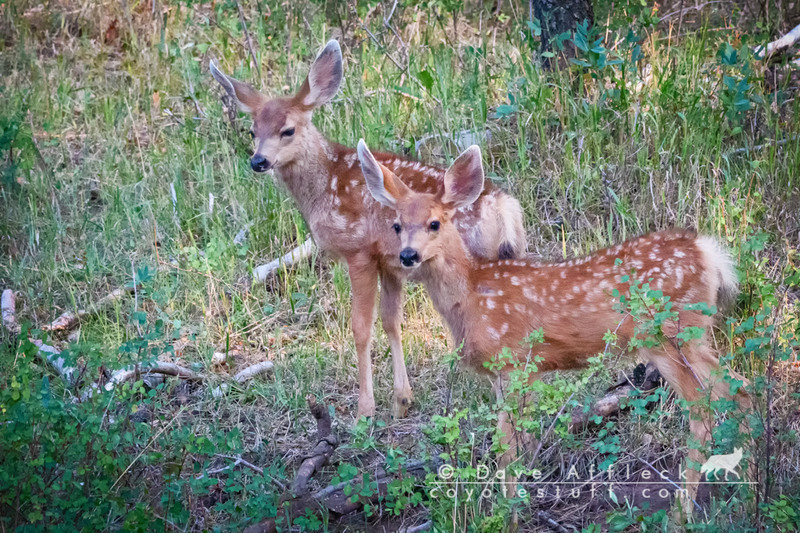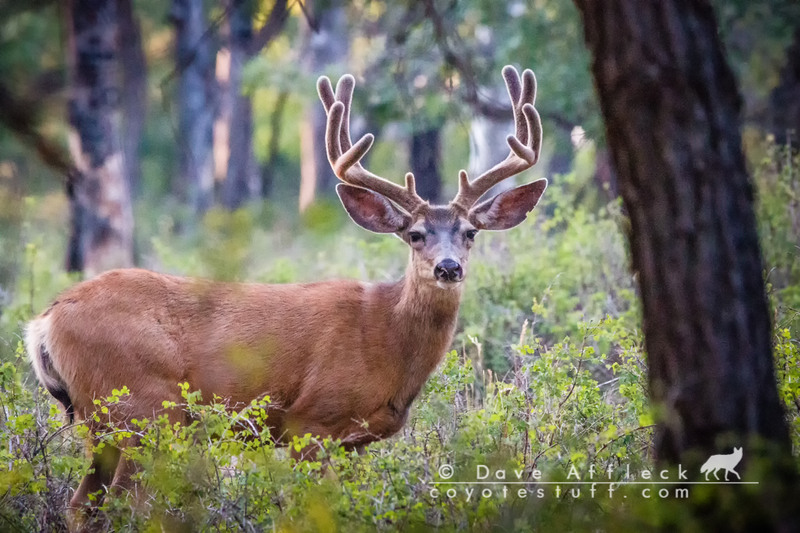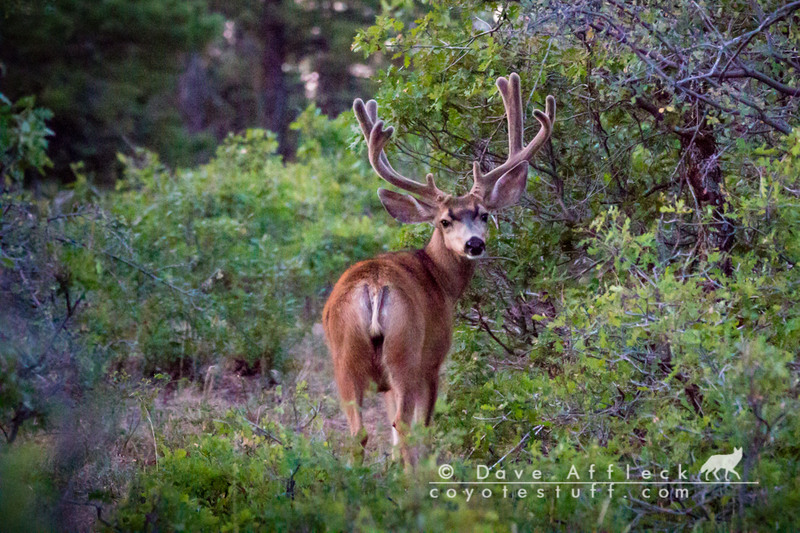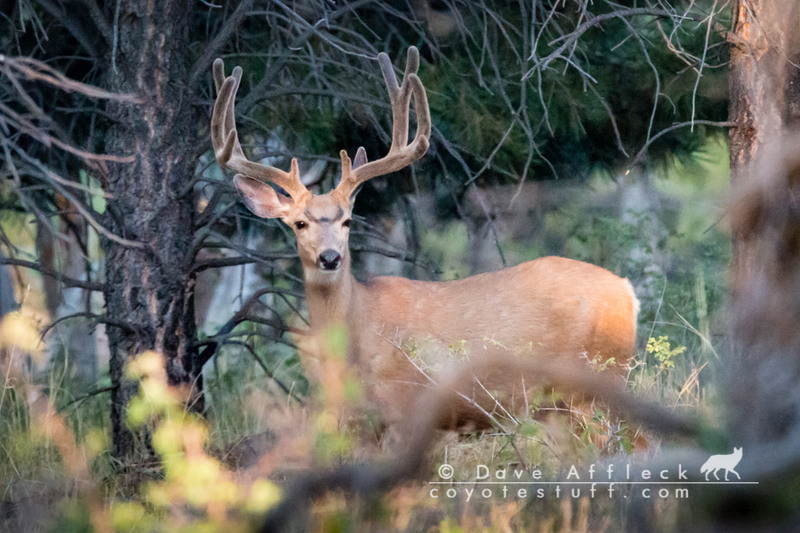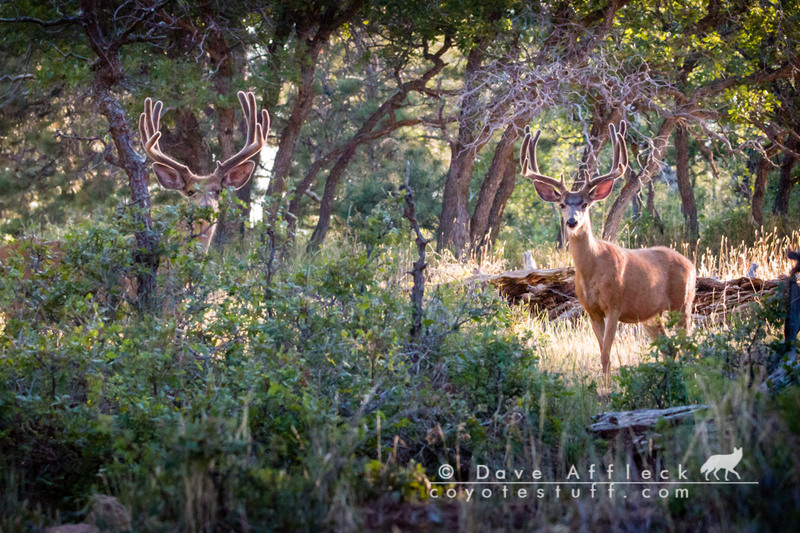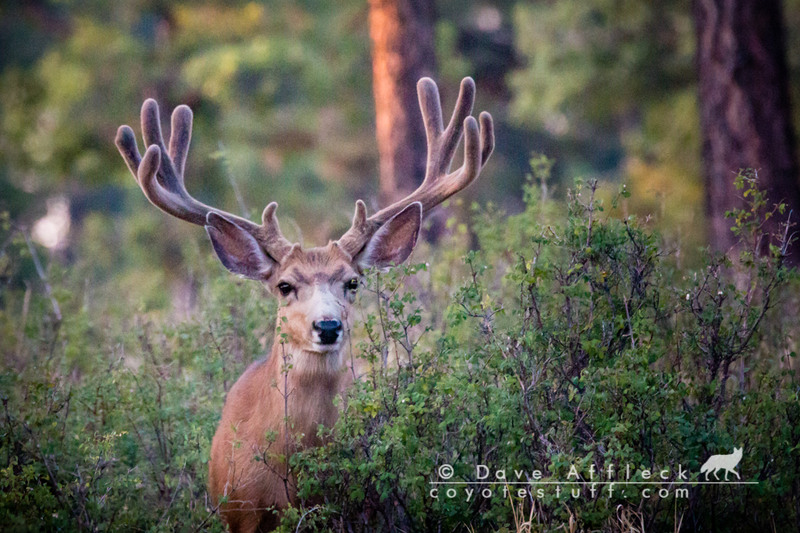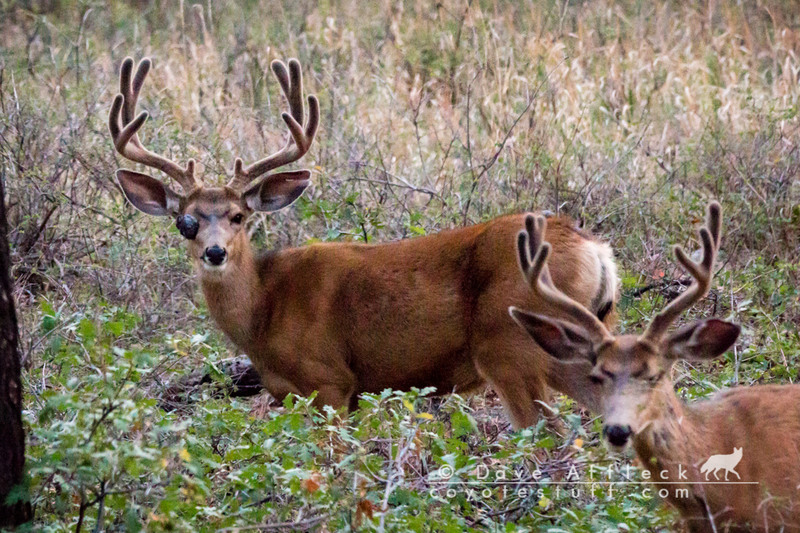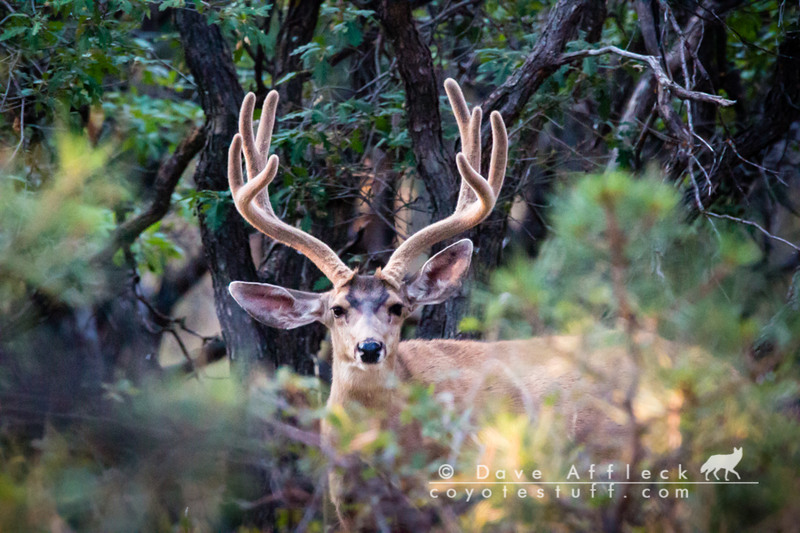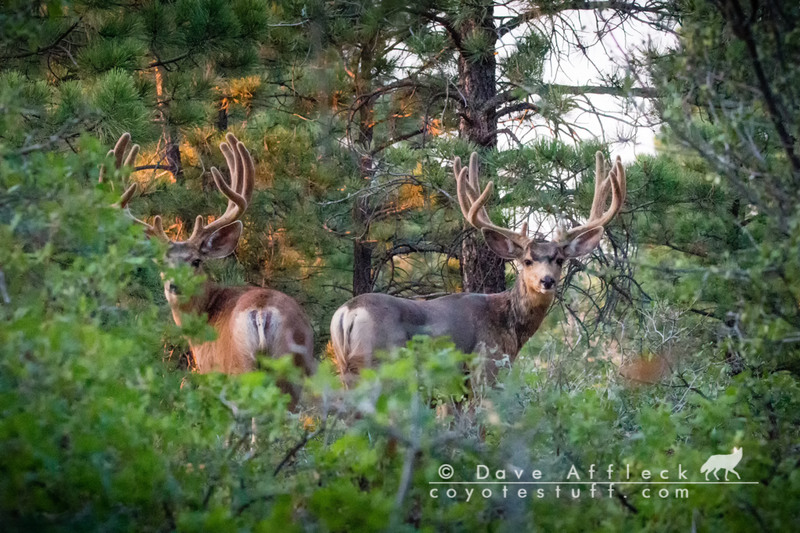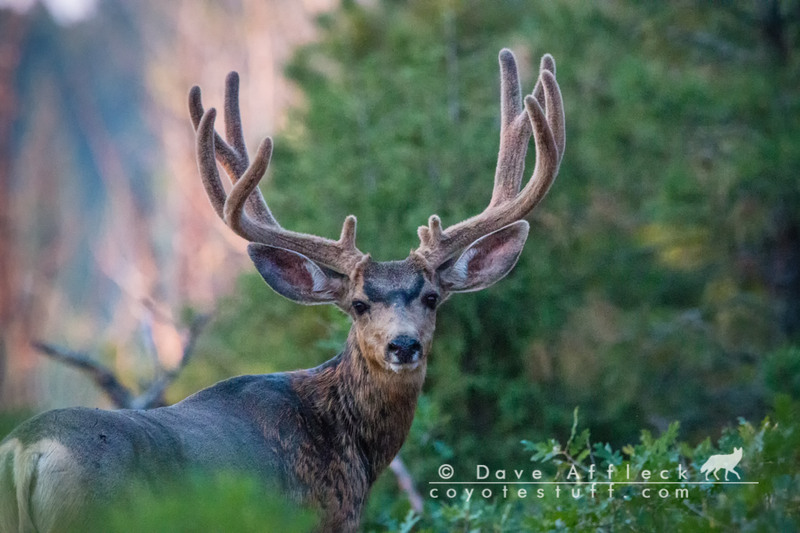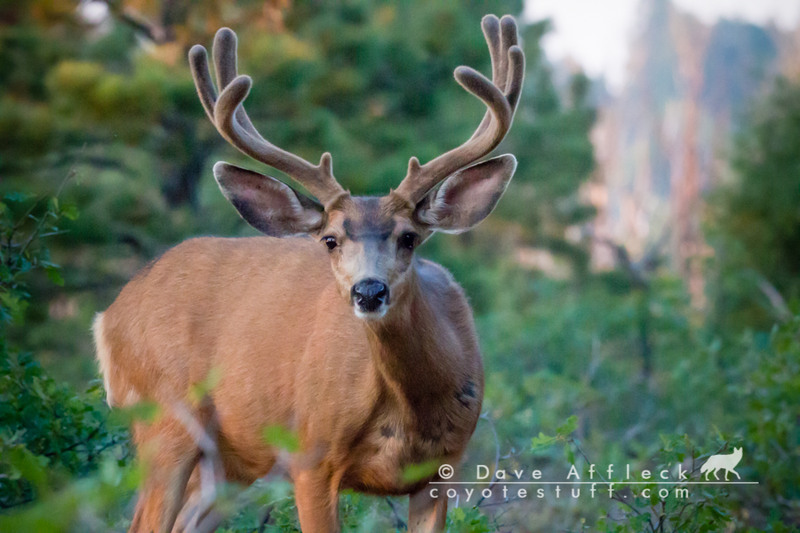 Look, a Lion!
That's exactly what I said to the kids when I spotted this cat. "Look! A lion!"
We were just driving around looking at deer and elk, seeing what we could see, hoping for a bear maybe.
Had a rifle onboard and an unused lion tag in my wallet.
Spotted him running through the oak brush, looked like maybe chasing a deer. After the kids spotted him my daughter started whistling at him and he stopped, turned and took a few strides our way. Then jumped up on a stump to get a better look at us over the oak brush. Sitting up proud and pretty at about 70 yards!
…and…
I let him go ha-ha!   But not before taking his picture!
After using a Foxpro to try to call a lion into position for a shot like that last winter, without success, there just would not have been any satisfaction or joy in shooting this cooperative animal.  Besides, the camera was closer than the rifle and this was probably a once in a lifetime photo opportunity.  And if you want to get pictures of wildlife it's bad karma to shoot the talent.
Have to share though, my daughter was pretty bummed that I let it go.  She really, really wanted me to shoot it, ha-ha!
Maybe I'll have better luck calling one in and getting a good shot at it this coming winter!
Summary
Article Name
Velvety goodness, plus lion
Description
Camping/photo trip report with lots and lots of nice mule deer buck in velvet, plus a cooperative mountain lion.
Author
Publisher Name
Publisher Logo